Basic Life Support with Safe Use of CPR
The objective of this qualification is to allow learners to develop their knowledge and skills in basic life support to meet the needs of their role in work, or another setting, and allows progression into further first aid training. It is recommended for first-aiders in the workplace environment who have access to a defibrillator.
Learners will know that cardiopulmonary resuscitation (CPR) and automated external defibrillation (AED) form an essential part of the chain of survival. The topics covered are regarded by Skills for Health as being important in maintaining good practice in the safe, prompt, and effective administration of CPR and AED. The learners should be able to safely and effectively use an AED Machine.
Minimum Entry Qualifications
Qualifications ‐ None
Learners must be able to effectively perform CPR prior to registration.
The learners will:
Be able to manage an unresponsive casualty who is breathing normally.

Assess the scene for danger
Assess a casualty's level of consciousness
Demonstrate how to open a casualty's airway and check for breathing
Demonstrate how to place an unresponsive casualty in the recovery position

Be able to manage an unresponsive casualty who is not breathing normally.

Recognise the need to commence CPR
Perform CPR on a mannequin

Know how to safely use an automated external defibrillator.

Identify safety considerations when using an AED
List differences in the procedure when using an AED on a child

Be able to safely use an automated external defibrillator.

Demonstrate the correct placement of AED electrode pads on a mannequin
Follow AED voice prompts accurately
Demonstrate how to combine the use of an AED with minimal interruptions in CPR using a mannequin
Demonstrate the safe delivery of AED shock
State the procedures if the casualty shows signs of life and starts to breathe normally
Identify the information required when handing over the casualty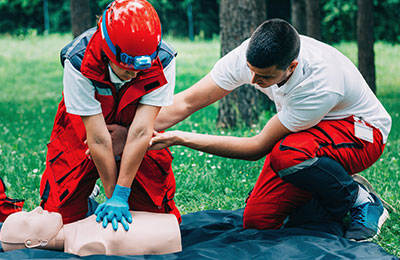 Classroom