It focuses on effective and quick basic first aid response on life threatening situations; demonstrate quick and effective response while waiting for professional care.
This 4-hour course teaches individuals how to recognize everyday emergencies and care for an injury or illness until professional help arrives.
The training delivery will incorporate discussion, demonstration and practical learning. A practical application will enable the participants to understand the concepts well and apply them in real situations
Introduction to First Aid
Legal Issues
Scene Safety
Bloodborne Pathogens and Universal Precautions
Alerting Emergency Medical Services
Basic Patient Assessment
Basic CPR
Bleeding Control and Wound Care
Musculoskeletal Injuries Assessment and Care
Medical Emergencies
Poisoning
Heat and Cold Emergencies
Re-certification Interval
Theory:  Webinar training 
Practical: Should be done within 90 days
Individuals who want or need a first aid training, emergency response team members, health and safety professionals, manager, supervisor and administrative staff.
DATE
          TIME
 
Qatar
Oman
| | | |
| --- | --- | --- |
| 6 Aug 2020 | 09:00-11:00 | 10:00-12:00 |
| 11 Aug 2020 | 13:00-15:00 | 14:00-16:00 |
| 17 Aug 2020 | 09:00-11:00 | 10:00-12:00 |
| 24 Aug 2020 | 09:00-11:00 | 10:00-12:00 |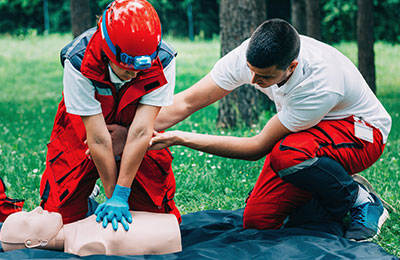 Classroom