Accreditations & LEARNING Partners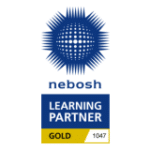 NEBOSH Accredited Centre 1047
The National Examination Board in Occupational Safety and Health (UK) is an awarding charitable body formed in 1979. NEBOSH offers a comprehensive range of globally recognised qualifications designed to meet the health, safety, and environmental management needs of every workplace.
IOSH, UK
The Institution of Occupational Safety and Health is the world's biggest professional health and safety membership organization, with over 40,000 members worldwide. IOSH is the voice of the health and safety profession, campaigning on issues that affect millions of working people around the world.
OPITO, UK
Offshore Petroleum Industry Training Organization is responsible for setting the standards in the oil and gas industry, particularly in terms of emergency response and training. Organisations awarded OPITO standard are recognised worldwide.
 Highfield Awarding Body for Compliance (HABC)
Highfield Awarding Body for Compliance is the global leader in international qualifications, training materials, and e-learning, and the winner of the Queen's Award for Enterprise.
IIIRSM, UK
International Institute of Risk and Safety Management is an independent charity providing practical support to those involved in risk management for the benefit of people, society, governments and business. It is a collaborative and accessible professional body, led by members.
CQI | IRCA

CQI and IRCA Certified Training is a modular portfolio that offers a range of certified training courses on quality and auditing topics at different levels. This portfolio combines the knowledge and capability requirements of our two membership brands, the CQI and IRCA.
BRITISH SAFETY COUNCIL
The British Safety Council (BSC) offers a range of services and products, including training, qualifications, publications, audits and awards. Since its foundation in 1957, the British Safety Council has campaigned tirelessly to protect workers from accidents, hazards and unsafe conditions, and played a decisive role in the political process that has led to adoption of landmark safety legislation in the UK.
IEMA
The Institute of Environmental Management & Assessment (IEMA) is the professional home of over 15,000 environment and sustainability professionals from around the globe. IEMA is an international membership organisation, committed to global sustainability.
PASMA
The Prefabricated Access Suppliers' and Manufacturers' Association (PASMA), is the recognised focus and authority for mobile access towers. PASMA advances safety, standards and best practice across a wide range of sectors and represents the interests of its members in the UK, South Africa, South East Asia and the Middle East.
ECITB
The Engineering Construction Industry Training Board (ECITB) is the employer-led skills, standards and qualifications body for the development of the engineering construction workforce of Great Britain. An arms-length body of the UK Government, the ECITB reports to the Department for Education.